We are a close-knit team of occupational therapists who are passionate about collaboration and ongoing learning to help kids experience joy and reach their full potential.
Amy Buchholz, OTR/L
Occupational Therapist, Lead Clinincian & Co-Owner
Amy is passionate about her work with children, and finds joy and fulfillment when helping families. She has been practicing as a pediatric occupational therapist since 1999, when she received her degree from the University of Florida.
Having worked in many pediatric practice settings, she's firmly settled on the small patient practice as the best way to connect with a family and support system. So she founded Bright Spot with her partner Ryan in 2017.
She has sought extensive post-graduate training and is committed to continual learning to stay at the forefront in her field:
- Level 1 Intensive Mentorship at the STAR Center
- mentorship in the DIR/Floortime Approach with Profectum faculty member and educator Kiegan Blake, OTR/L, M.A.Ed.
- SOS Feeding approach, Therapeutic Listening, Astronaut Training, Pediatric Yoga, and Collaborative Problem Solving among others.
Amy is a craft artist on the side, an acrobat in a local circus company, and a lover of dance.
Danielle Williams, OTD, OTR/L
Occupational Therapist
​
Danielle graduated with her doctorate in occupational therapy from Pacific University in May, 2015. She took part a 12-week internship at Sensory KIDS in the summer of 2014 and completed her capstone project with Lisa in 2015. During her months of training at Sensory KIDS Danielle impressed us with her passion, knowledge, and never-ending quest to learn. So much so that we decided to make her a permanent part of our team! Danielle loves working with children and families, and outside of work she enjoys travel and ballroom dancing. We are excited to have her!
Emily Schmidt, MOT, OTR/L
Occupational Therapist
Emily graduated from Loma Linda University in 2010 with a Master of Occupational Therapy. She is passionate about continuing to learn and further her therapeutic knowledge base through continuing education courses on sensory integration and relationship based therapy, as well as continuous mentorship from Lisa. Emily has completed the Level 1 Intensive Mentorship at the STAR Center with Dr. Lucy Jane Miller and Dr. Sarah Schoen, and has sensory integration (SIPT) training. She is trained in the SOS Feeding approach and is passionate about helping kids "learn about food!"
Emily is excited to be a part of the team at Sensory KIDS, and about the intensive model of therapy. She enjoys developing relationships with kids and families as part of the dynamic treatment model at Sensory KIDS. Emily is skilled at creating strategies and therapeutic tools that families can take home and use to help their kids live more functional and happier lives.
Amanda Kleist, OTD, OTR/L




Occupational Therapist
Amanda graduated from Pacific University in 2020 with a Clinical Doctorate in Occupational Therapy. Amanda spent many years as a therapy aide in a sensory clinic in Idaho during her undergraduate studies and has been passionate about pediatric practice ever since, building on that foundation. She is driven by empowering children and families and is dedicated to advocating for health equity and occupational justice. Some of Amanda's favorite things to do are to go on adventures with her dog and family, travel, play sports, cook, and dance. She is so excited to join the Sensory Kids community and to get to know all of its amazing families.
Jenny Owen, MOT, OTR/L




Occupational Therapist
Jenny graduated from Pacific University in 2012 with a Masters degree in Occupational Therapy, with passion and focus for working in pediatrics. She believes strongly that the best therapy comes out of a trusting relationship between child and therapist. Jenny understands that there are many factors that impact how a child functions in the world and is able to collaborate with families to support the child and the family in meeting their goals. Outside of work, Jenny enjoys spending time with family and friends, riding her bike and getting out into nature as much as possible.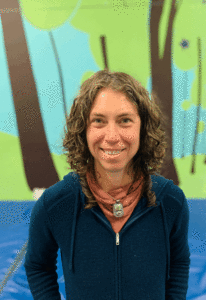 Ryan Moskal
Practice Manager & Co-Owner
Ryan is a graduate of Carnegie Mellon University where he studied electrical and computer engineering. He began his professional life as a systems engineer in the aerospace industry before leaving to pursue other interests.
He entered the world of small business to manage finances and operations for a custom bicycle company (Ryan loves bicycles). And then joined Amy to support her work, as partner in life and business, and has been co-owner and practice manager of Bright Spot for four years now.
His skills as a systems engineer and exceptionally organized, thoughtful, and efficient human have translated incredibly well to laying the foundation for a small clinic. He maintains a strong focus on the client experience, to establish clear communication and understanding with parents about their insurance and billing during the therapy process.
Outside the office, Ryan enjoys running, cycling, hiking, and meditation.
Rachel Cilla




Assistant Manager
Rachel grew up in Fort Lauderdale, FL and graduated in 2019 from the University of Wisconsin-Madison with a degree in Classics. After a brief period studying Classics in graduate school at Duke, she moved to Portland with her fat cat and Australian best-friend! After 5+ years of working in children's education, she decided to consider a career path change towards child psychology and starting working at Sensory KIDS to gain industry experience while continuing her education. Rachel is passionate about working with children, creating art, and scuba diving.
Here's a little Bright Spot + Sensory Kids history!



Amy and Ryan founded their small clinic, Bright Spot, together in 2017, as partners in life and work. It became very clear that Portland families could benefit from more services, so they decided to grow the practice!
Right around that time, Lisa Porter, the founder of Sensory Kids, expressed her readiness to move on to other great projects, with the desire to pass the clinic on to colleagues she trusted to steward it well.
Amy had already worked together with Lisa and the wonderful Sensory Kids team in the past, and held high regard for the colleagues and community. With a common treatment philosophy, the decision to merge Bright Spot and Sensory Kids became clear.
We're now doing our best to continue the excellent work established at Sensory Kids, while brightening things up and enhancing the offerings and support for families.